katerina
singer-pianist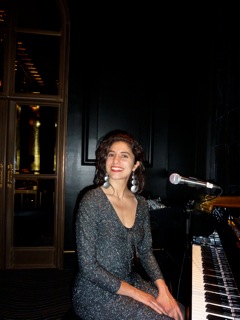 curriculum vitae
0044 - (0) 7957 657 545
info@katerinasingerpianist.co.uk
training
2004-2005 Course in Music Technology at "Point Blank", London.
1999-2001 Jazz singing lessons with jazz singer Estelle Kokot and classical singing lessons with opera singer Sally Bradshaw, London.
1993-1996 Degree (BA Hons) in Dance Theatre, The Laban Centre of Movement and Dance, London.
1986-1992 Piano and classical singing lessons at the National Music School of Greece, Athens.
performance
2019- 2021 Vincent Piano Bar, Berlin
2019- 2020 Ganymed Brasserie, Berlin

2019- 2020 Hilton Hotel, Berlin
2018-2019 Steigenberger Hotel, Berlin

1997-2020 Restaurants in London
Richard Corrigan's "Bentley's", Harvey Nichols' "Prism" and "Oxo Tower", Terence Conranís "Bluebird", "Quaglino's" and "Le Pont de la Tour",
also "Plateaux" at the Canary Wharf and "Skylon" at the Southbank Centre restaurants.
Performed at "Le Pont de la Tour" during Bill Clintonís and Tony Blairís visit and sung accompanied by a three piece band during the millennium eve.
Private members clubs in London

the "RAC", the "Cleremont Casino", "Eight Members Club", "George" and "Mark's" clubs in Mayfair.
Hotels in London
"The Savoy", "Jumeirah Carlton Tower", "Cliveden House", "The Ritz", "The Howard", "The Churchill", "Millennium Britannia Mayfair", "Claridge's",
"The Westbury", "Conrad Chelsea Harbour", the "Milestone", the "Montague on the Gardens" , "Rubens at the Palace" and the "South Place Hotel".
Private functions in London
Private party at Richard Bransonís house in Holland Park and various events and exhibitions at the Hellenic Centre near Baker Street.
Summer 2006 Singer-pianist with Princess Cruises, Island Princess, Alaska.
2005 Performed for two weeks at the "Wakker" piano bar, Amsterdam.
Summer 2000 Toured in Greece with Greek pop star Anna Vissi as a support singer and back vocalist. Opened the concerts alone (sung solo to an audience of 14,000 in Cyprus).
2000 Lead singer in jazz trip-hop band "Blowpipe". Performed at many gigs around the U.K. Also one of the two singers on the album "Epilogue" that was released in 2000
by "Harmsonic", London.
1998 Performed as a singer accompanied by pianist Peter Lewis at "China Jazz" restaurant, London.
1992-1995 Singer-pianist at various piano bars in Athens: "Actuel Privilege", "Kallindromio", "Enallax" and more.
repertoire
Leftfield Pop classics, sultry Jazz standards, old French chansons, French 80's Pop, old Greek songs, German Songs, Ska, Reggae, Film music.
languages
Fluent English, French, Greek and some German and Spanish.